Flights and flight packages
Roping The Wind Hot Air Balloon Company is the only full time ballooning company flying the Phoenix area offering exclusive flights for two people. We are based in Mesa, AZ. We have three standard flight locations for you to choose from. Each provides a very unique and different flight with scenery ranging from Sonoran Desert to rugged mountain peaks. You choose the flight location!
Our standard flight is an exclusive private flight for two people. These flights are offered daily at sunrise. Flights are available from any of our 3 flight locations:
*Gold Canyon- Superstition Mountain and Wilderness (sunrise)
*Peoria- Lake Pleasant and Hieroglyphic Mountains (sunrise)
*Maricopa- Vekol Valley/Sonoran Desert National Monument (sunrise or sunset)
If you are looking to complete your balloon flight experience with a romantic getaway, we offer our Gold Canyon flight combined with a stay at the beautiful Gold Canyon Golf Resort. While we always recommend sunrise flights for the best weather and wind conditions for ballooning, we do offer sunset flights, November-March, from our Maricopa/Sonoran Desert National Monument flight location.
If adventure is a little more what you are seeking, then consider flying with the Roping The Wind Hot Air Balloon Team on an amazing adventure flight! We occasionally offer unique and often times "one-off" flights over rugged mountain peaks, unspoiled Sonoran desert terrain, high mountain forests and meadows and other scenic and remote locations around Arizona. These flights are designed for those who perhaps have flown in a balloon before and are looking for something a bit different or for our customers who are serious backcountry enthusiasts. Rates and availability for these flights can be found on our special offers page. General information about our adventure flights can be found below.
You can learn more about each of our flights here and even schedule your flight online! Choose a flight:
Other services
Roping The Wind Hot Air Balloon Company doesn't only offer rides… we offer much more! We are a full service hot air balloon company! Check out some of our other services that our balloons are available for:
Skydiving
Are you a skydiver looking for a different jump experience? Give us a call! We are always available to the skydiving community! We can generally take 3 jumpers up at a time and can handle as many as 9 jumpers in a morning or evening (seasonally) flight. We can often times meet you and your guests at your local DZ. Launch a short distance away and drop you at your DZ and you can be back on the plane for your next ride up shortly after! No long shuttle rides back to the drop zone with us!
Stunts
The Roping The Wind Flight Team has worked with film production companies and world class extreme athletes! We are always excited to make your next balloon assisted stunt or film work a reality! Call us!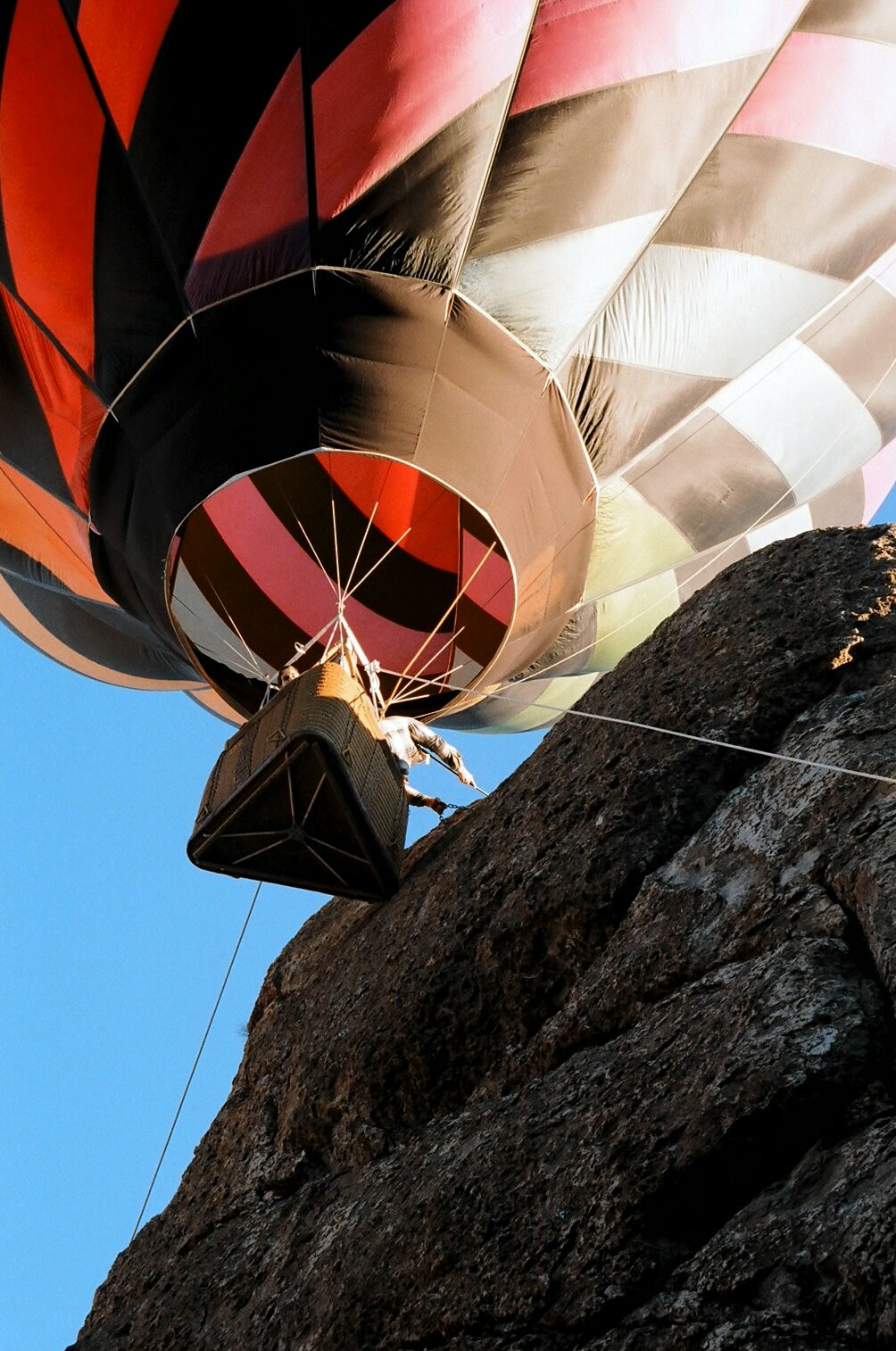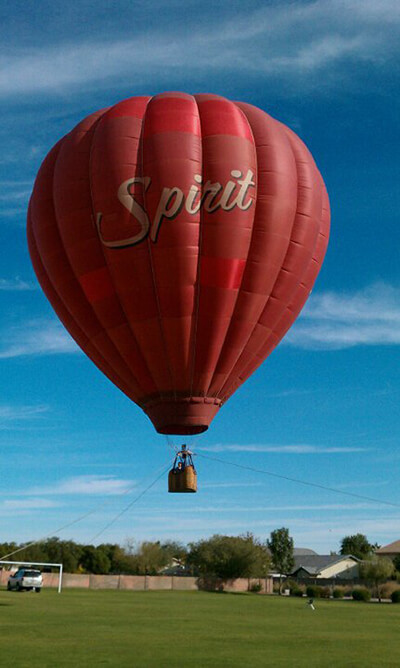 Advertising
Our 7 story tall hot air balloons are the perfect place to advertise your company name and products and a great source of making your market area aware of your brand name! These moving, flying and larger than life billboards are a great way (and very cost effective) way to get your companies name out into the marketplace! Our hot air balloons are very mobile and can be driven to any location and inflated within minutes. You can also use our balloons for store front promotions. Add a very high visibility object to your next sale or grand opening event! Additionally, tether flights can be combined to give your customers something to remember! Since the first modern hot air balloons took to the skies, people are still fascinated by these gentle giants. Wherever we are, spectators always gather to get an up close look at our aircraft! Have you ever seen someone take a picture of a billboard before?! These pictures are then shown to friends and family and you have indirectly reached an ever growing market!. With the rise in social media over the past many years, it is so common for people to snap a picture of our balloons and send it out over social media for the world to see! Our Capt, Scott Nicol, has flown for several high profile corporate advertising programs in the US and Canada and understands how to get the balloon in front of the crowds and cameras! Contact us to learn how your company can reach new heights with a custom built hot air balloon with your logo and colors! We can create a program for many different advertising budgets.
Tether Events and Static Inflations
Hot air balloons are great for store front promotions and other such events were a business wants a high profile/high visibility object on site. This object, the balloon, also serves as an excellent way to give back to your customers who patronize your establishment by providing tethered balloon rides. Our 77-90,000 cubic foot balloons stand nearly 70 feet tall and 65 feet in diameter. These gentle giants are visible from a great distance away and spectators are always present during our balloon operations in high traffic areas!
What exactly is a tethered balloon? A balloon is tethered by 3 ropes (or tether lines) to ground anchor points and is allowed to ascend to the top of these ropes. This can be anywhere from 10-50 feet up depending on surface wind conditions and other considerations. Winds must be light for a safe tether event (generally less than 5 mph). An area that is approx. 200×200 feet is generally acceptable for tethering a balloon provided there are no obstacles or powerlines around the perimeter of the tether site. Parking lots are acceptable and grass fields are preferable. A tether event can last from as little as an hour to as much as 4 or 5 hours. Duration of tether time is always dependent upon surface winds remaining light to calm. The duration of the tether and height of the balloon on tether is always at the discretion of the pilot in command.
We also can do more simplistic static displays (when the balloon is inflated and remains on the ground). This is an option when the wind is slightly too strong for tethering or when there isn't adequate space to safely tether. A static display during nighttime hours is even more dramatic. This is called a 'balloon glow' and is a very eye catching sight! The balloon is occasionally lit up like a 7 story tall light bulb when the pilot ignites the propane burners!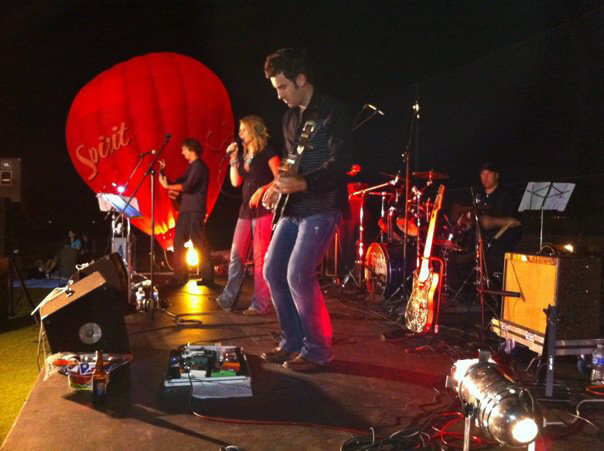 Our balloons can also be combined with block parties, school events, and numerous other special events where the promoter/organizer is looking for a highly visible means to drive people in off the streets to their event. Email or call us for more details on our tethered or static balloon operations.
Charitable Fund Raisers
We field calls every week from Charitable organizations looking for donations of a balloon flight. We would love to be able to help each and every one of these organizations for the sake of a good cause. Unfortunately, we are a small company and simply cannot assist each and every one of these requests! So, we have developed a gift certificate fund raiser program that is a win-win situation for your organization as well as our company. Contact us for more information on our gift certificate fund raisers. Let us help you reach your charitable goals!