Why should you choose Roping The Wind
Hot Air Balloon Company?

Roping The Wind Hot Air Balloon Company is the only full time ballooning company in Arizona offering flights exclusively for couples. We fly sport balloons that can accommodate just 2 people and a pilot in a comfortable basket. Most balloon ride companies cater to large groups and fly balloons that carry 10-24 people each! The difference is similar to riding in a bus or having your very own personal limousine… in the sky! We take pride in offering the most private and personalized balloon flight experience available in Arizona! Ballooning is an expensive hobby/sport, however we are able to keep our costs down by operating small sport balloons and keeping our company 'family' like, yet without sacrificing any aspect of the operation, in terms of professionalism and safety. It is very important to ask questions when calling around and deciding which company to choose for your balloon flight experience. For the price, will you be the only two on board or will there be other passengers with you?
You can fly with the other companies…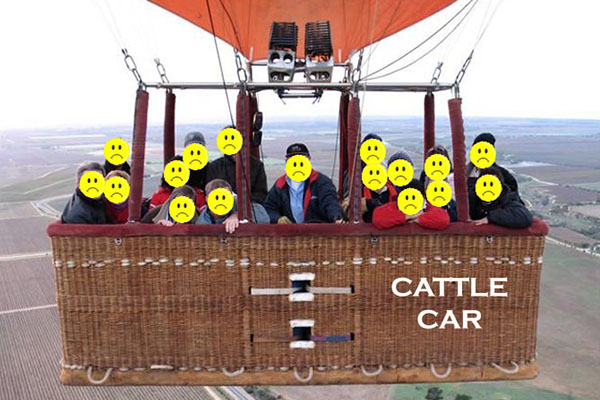 Or you can fly with us!!!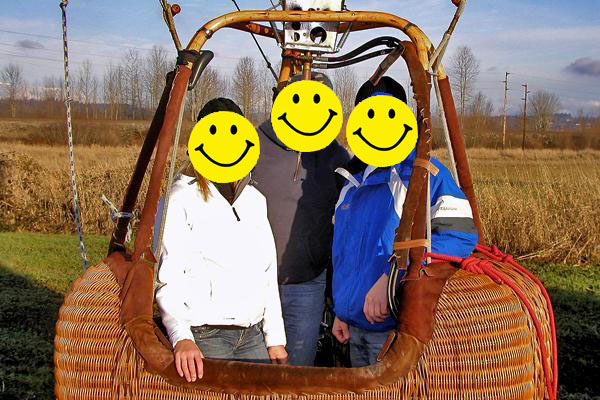 As you can see from these two pictures above… Roping The Wind HABC offers the most private, the most exclusive, the most intimate and the most personal  balloon flight experience available in Arizona! We do not fly larger balloons and also offer private flights… we specialize in private flights for two people and two people only!
Ballooning began in the 1970's as a recreational activity. It was family and friends going out for a morning sunrise balloon flight together. It grew over the years and became a way to pay for their hobby and continued to expand into a commercial activity and taking people up for rides. "The more peple we fly, the more money we make!" So they started building bigger and bigger balloons. Today, Phoenix is the largest commercial ballooning market in the USA. Its big companies and big balloons. The general attitude is about "hauling people". 12-24 passenger large ride balloons are a common sight in the Phoenix skies. Your pilot, Capt Scott, has flown all sizes of balloons. He is intimitely familar with the operations of large outfits and has flown for many of them over the years. Which is why he started his own company, to take ballooning back to the early days, when it was all about fun, family and friends. When you fly with Roping The Wind, you are not just another passenger. You will become part of the team. Our flights are very interactive. We will allow you to get as little or as much hands on as you like. You will feel like you are part of our team! We tend to develop a good relationship with our passengers. When we part ways after the flight, we feel like we made new friends! In fact, many "like" Capt Scott on social media and stay in contact for years to come! Some have even joined on with our team for occasional recreational flights. We are all about family and friends! We welcome you into the Roping The Wind balloon team family!
You will find, from the initial phone call/contact with us to the time spent in the field, we are the friendliest balloon company in town! We are a small, but very professional ballooning operation. When you contact Roping The Wind HABC, your call will not be handled by a 'front desk' person, you will be greeted by your pilot (also the owner of the company!). Any questions you have about the company or general questions about ballooning, you will get direct and knowledgeable answers.

We fly meticulously maintained and clean balloons. Prior to our inflation's and landings on the sometimes dusty desert floor, our experienced crew will lay out ground tarps to keep our colorful balloons shiny and clean. Our balloons are visually inspected after each and every flight flown. We fly only Firefly Balloons, crafted by The Balloon Works in Statesville, North Carolina. Firefly Balloons has been manufacturing sport balloons since the mid 70's and is one of the most experienced in the industry. They are also one of the original manufacturers of sport hot air balloons.
Hot air balloons are FAA certified aircraft and follow the same regulations as do fixed wing planes at the local airport. In addition, our balloons go through regular maintenance as required under the Federal Aviation Regulations. Your pilot is also an FAA certified commercial pilot who has gone through a rigorous training process to obtain a pilot's license. With over 27 years and 3100 hours in balloons, you can be assured a very safe and pleasurable experience. In addition, we regularly attend and compete in national sanctioned competitions to continually hone and improve our skills. Your pilot is one of only a few Arizona pilots that is consistently ranked in the national ranking system. You can learn more about your pilot here!
Questions you should ask when 'calling around':
It is important to ask questions when calling around and inquiring about a balloon flight! There are lots of choices for balloon companies in the local phone book. These companies range from small part time weekend businesses to big multi balloon operations. Some questions to consider:
General information about the company Does the company operate full time or are they just a weekend/part time business?  A recreational or weekend operation is not necessarily negative, however flying with a full time ballooning company assures that you are flying with a professional who does ballooning for a living and is extremely experienced and knowledgeable in all facets of hot air ballooning.
How long has the company been in business? Safety record of the company? Safety record of the companies pilots and the pilot you will be flying with? Have they ever had an accident or any FAR violations? Roping The Wind HABC has been in business since 1997. Your pilot, Scott Nicol, has been flying balloons for over 27 years. We are very proud to say that we have never had an accident or FAR violation of any kind nor have we ever had a claim of any kind on our insurance. We will continue to work hard to maintain this record. It can be disapointing to have your flight canceled the morning of the flight… sometimes right up to the scheduled meeting time… however, this is for your safety. Arizona has some of the best weather conditions for hot air ballooning and we lose only a small percentage of our flights due to weather. Occasionally though, weather systems do move across the state and bring with them breezy conditions and even rain on a rare occasion! Many of our passengers are tourists and rescheduling is sometimes not an option. We make every effort possible to accommodate a flight (we will typically give the weather a chance and make a final call early on the morning of your flight), however if weather conditions are not suitable for a safe flight…. canceling a flight is not a difficult decision. We have a saying in ballooning…. "we would rather be down here wishing we were up there, then up there wishing we were down here!".
Is the company locally based? Where do they fly? Are they knowledgeable on the local flying area? These are also very important questions to ask when choosing a company for your ballooning experience. A pilot that is very knowledgeable of the local flying terrain and wind patterns understands how the overall weather pattern effects the typical local wind patterns. This ables your pilot to make a more informed decision when determining if conditions are safe for balloon flight. This same knowledge will also allow your pilot to provide the most scenic and enjoyable flight based on the weather and wind direction the day of your flight.

There are several 'Nationwide balloon flight Gift Certificate' companies advertising in the local newspapers and other print media as well as on the Internet. These companies claim to operate in the East Valley or Phoenix areas. Sometimes they will even have a local phone number. They are NOT locally based and often times do not even have pilots or balloons. You purchase a gift certificate from them and then you can redeem it at any of their 'nationwide locations' (local balloon companies that are affiliated with them). Often times, you will end up paying much more as you are booking with a middleman and often find there is no local affiliate in your area! These companies have multiple websites in many markets and may appear to be local. If you dont get a "local" feel or vibe while exploring a website, it probably isnt local!  Roping The Wind HABC has never, and will never, be affiliated with any of these operations. We choose to do business the old fashioned way… directly with our customers and on a local level!

For many people, a hot air balloon flight will be a once in a lifetime experience. Take the time to ask questions and even do additional homework to assure you are going to be flying with an experienced company with a strong knowledge of the local flying area. Roping The Wind Hot Air Balloon Company is based in Mesa, Arizona.